What to expect at Sovereign Hill
Sovereign Hill is located on a hillside, and its exhibits represent Ballarat in its earliest days as an 1850s goldfields township. There are several things to be considered before visiting:
What are the surfaces like?
All roads and paths are gravel. There is some uneven ground.  Main Street at Sovereign Hill is a gentle slope; however, other areas of the site are quite steep. All roads are accessible by wheelchair, but some visitors could find the gravel surfaces difficult to manage.
Can wheelchairs get around and have a great experience?
Underground mine tours are accessible for visitors in wheelchairs. Please enquire at the mine office on arrival for bookings.  
Coach rides require visitors to climb several ladder-style steps. 
Parts of Sovereign Hill have wide bluestone gutters between the timber boardwalks and gravel roads. Ramps for crossing the gutters are highlighted on the free visitor map, which is available on entry. Wheelchairs are available free-of-charge. Subject to availability. 
Strollers are available for hire. A small charge applies. Subject to availability.

Who do I speak to for more information?
Are dogs allowed at Sovereign Hill?
Assistance animals are welcome at Sovereign Hill. However, for the safety and comfort of all Sovereign Hill's patrons and the animals on-site as part of Sovereign Hill's interpretation of goldfields life, other dogs are not permitted on Sovereign Hill's premises. This includes the Sovereign Hill Outdoor Museum, the Gold Museum, Sovereign Hill Hotel, Narmbool and AURA.
Exemptions will apply to:
Guide dogs for hearing-impaired and vision-impaired visitors;
Accredited and trained assistance dogs wearing a jacket identifying the dog as a trained assistance dog. These dogs must be secured by a harness or leash and under the control of the owner at all times whilst on Sovereign Hill's premises). The owner of an assistance dog will be asked to show an appropriate photo ID card identifying him/her as the owner/handler of the assistance dog;
On-duty working dogs under the control and supervision of on-duty emergency or security services personnel.
Do you have Accessible rooms at the Sovereign Hill Hotel?
Accessible features:
2 dedicated accessible car parks adjacent to Esmond Terrace
A permanent access 'ramp' into the building
Wide access entry door into the building
Wide corridor to the 3 accessible rooms - 62, 63 & 65.
All 3 rooms offer the same accessible amenities except for room 63, which also provides a 2nd connecting bedroom for a carer, if required.
Each accessible room has:
Wide entrance door
Wide bathroom access door
Large bathroom for wheelchair access
Hand and safety rails
Accessible shower with shower curtain
Accessible toilet
Ramped access to private outdoor deck area.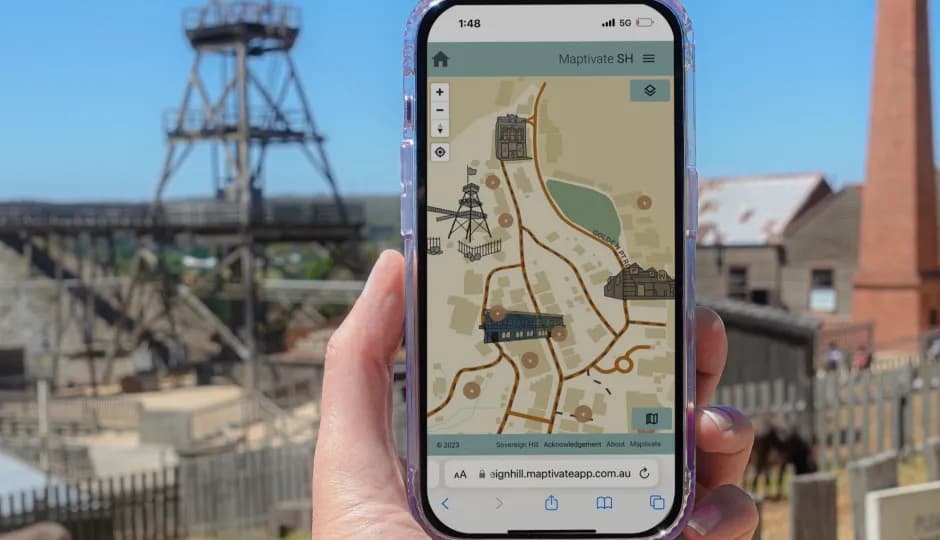 Visitor map
View our interactive visitor map and start planning your Sovereign Hill adventure.