From a place you know comes a story you don't — AURA immerses you in the story of gold in a 90 minute high impact, graphic presentation which explores the creation, discovery and impact of the precious metal then and now. You will never see gold the same way after AURA.

Under cover of darkness travel across our sprawling site, AURA transforms Sovereign Hill into a moving theatre with hundreds of hi-tech projections telling our story. The Wadawurrung creation story unfolds and soars into the skies over our lake. The gritty story of gold along with rebellion, gunfights, triumphs, and tragedies will draw you into the drama of history.
AURA is unique, and places are limited, tickets must be pre-booked. Performances run 6 nights a week Monday to Saturday as well as every night during Victorian school holidays. 
Aboriginal and Torres Strait Islander people should be aware that AURA contains video, voices and names of deceased persons. The family of Uncle Jack Charles has given permission to continue to use his name and images.
| | |
| --- | --- |
| AURA Ticket | Price |
| Adult | $45.00 |
| Concession* | $36.00 |
| Child (ages 5-15) - only available when purchased with an Adult Ticket. Children under 5 years are free.  | $24.00 |
| Family of 4 (2 Adult and 2 Children) | $122.00 |
| Family of 3 (1 Adult and 2 Children) | $84.00 |
| Additional Child (Family only) | $20.00 |
| *Australian cards only. Cards must be presented. Valid concession cards: Australian Pension, Disability/Carer, Health Care, Sole Parent, Unemployed, Veterans' Affairs, Australian Student, Companion Card (FOC), ISIC International Student, Australian Seniors Card. |   |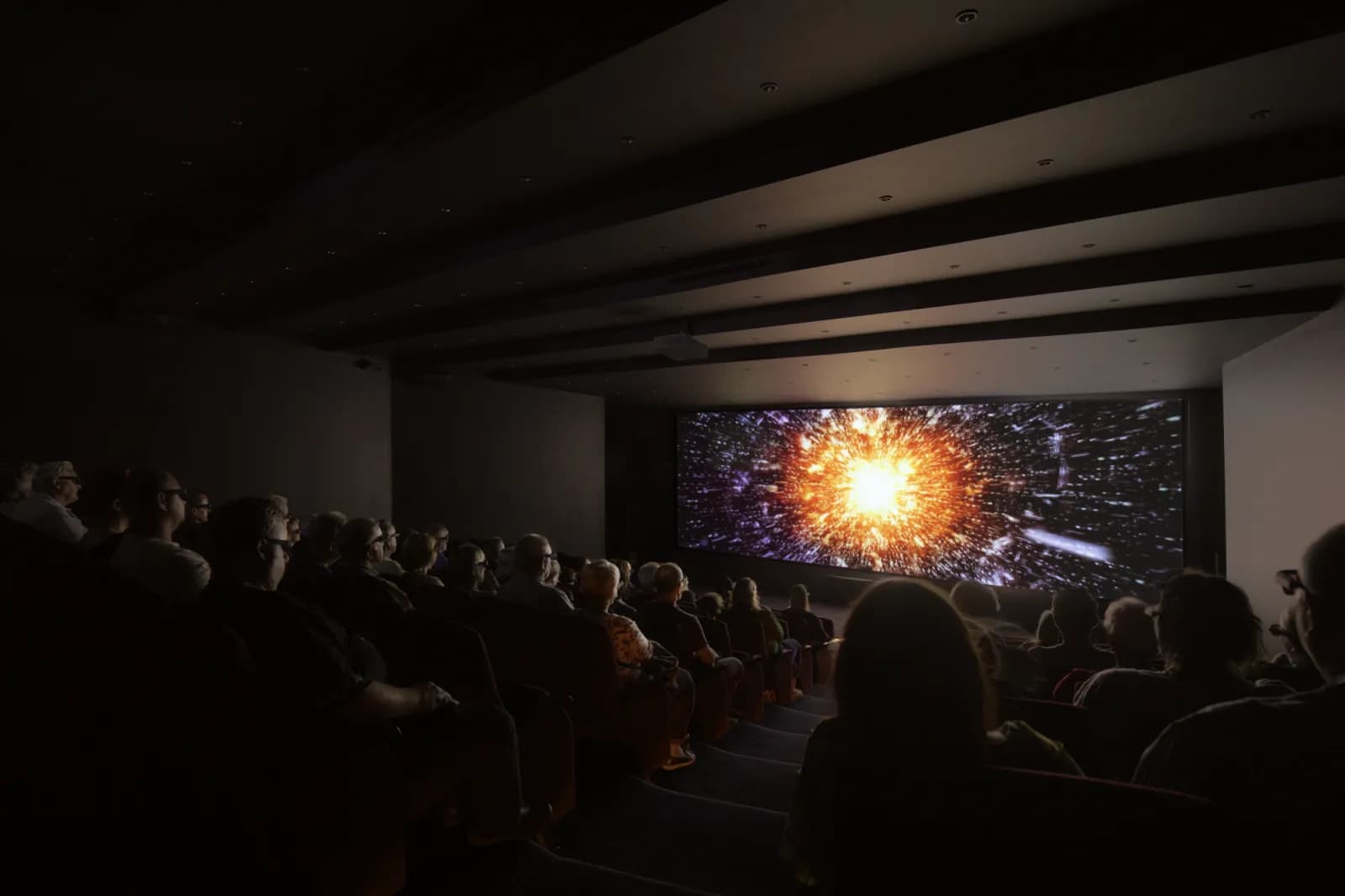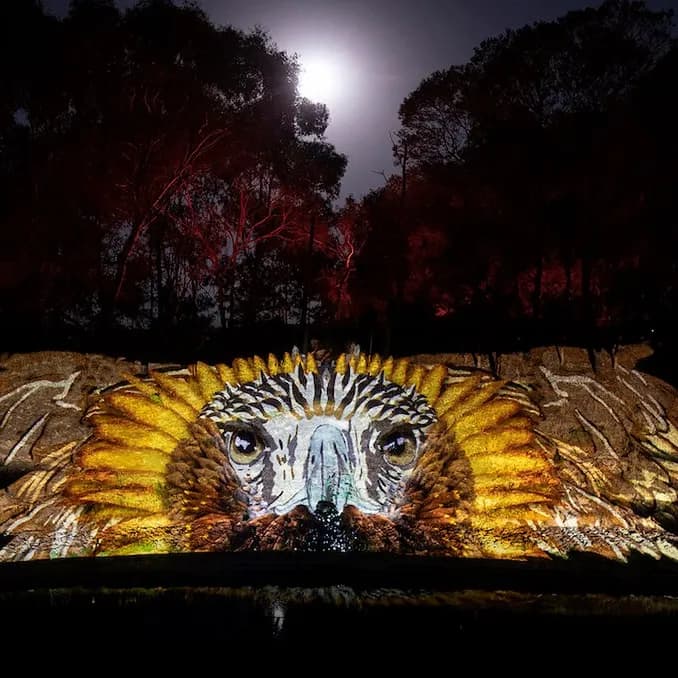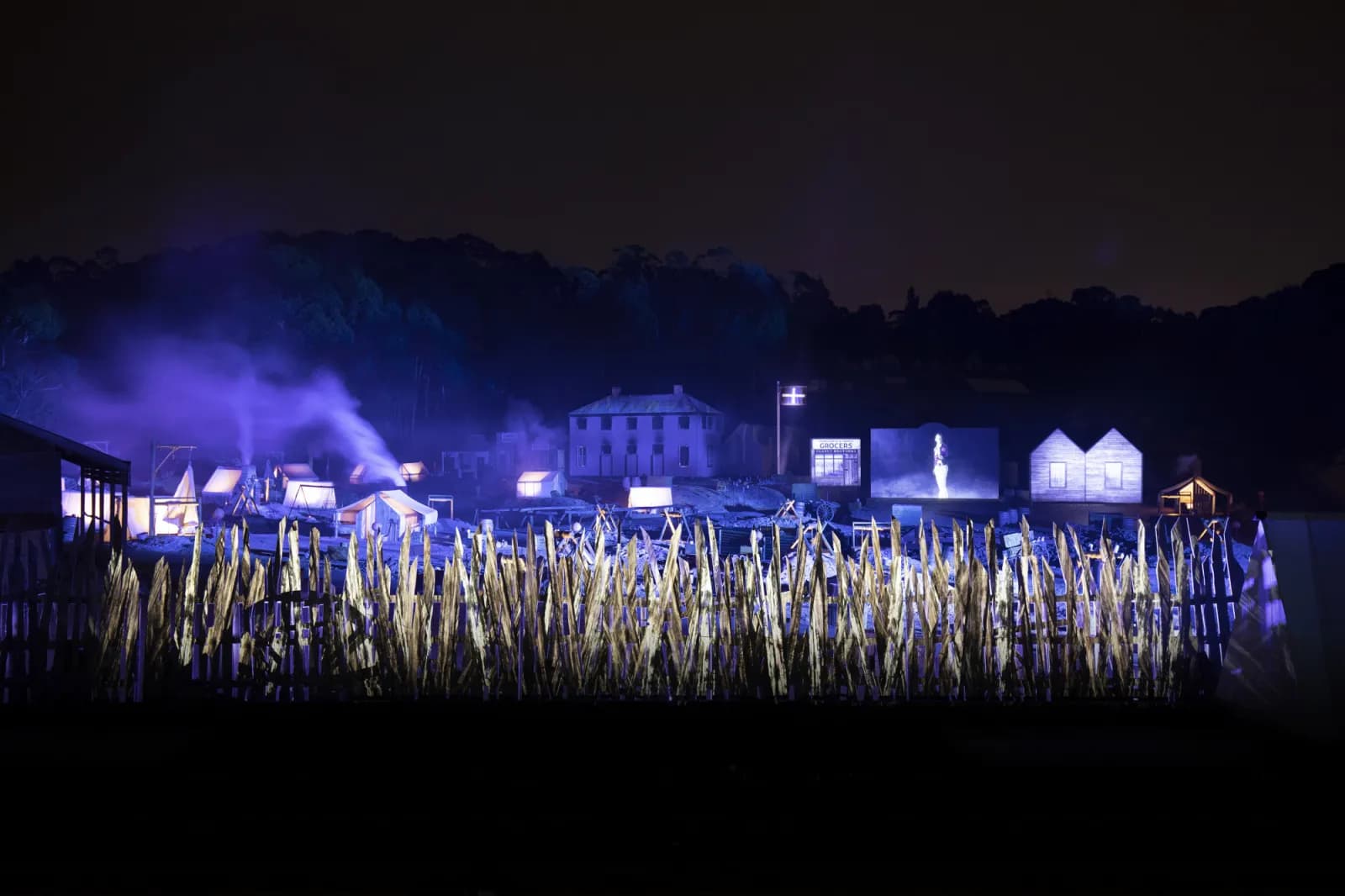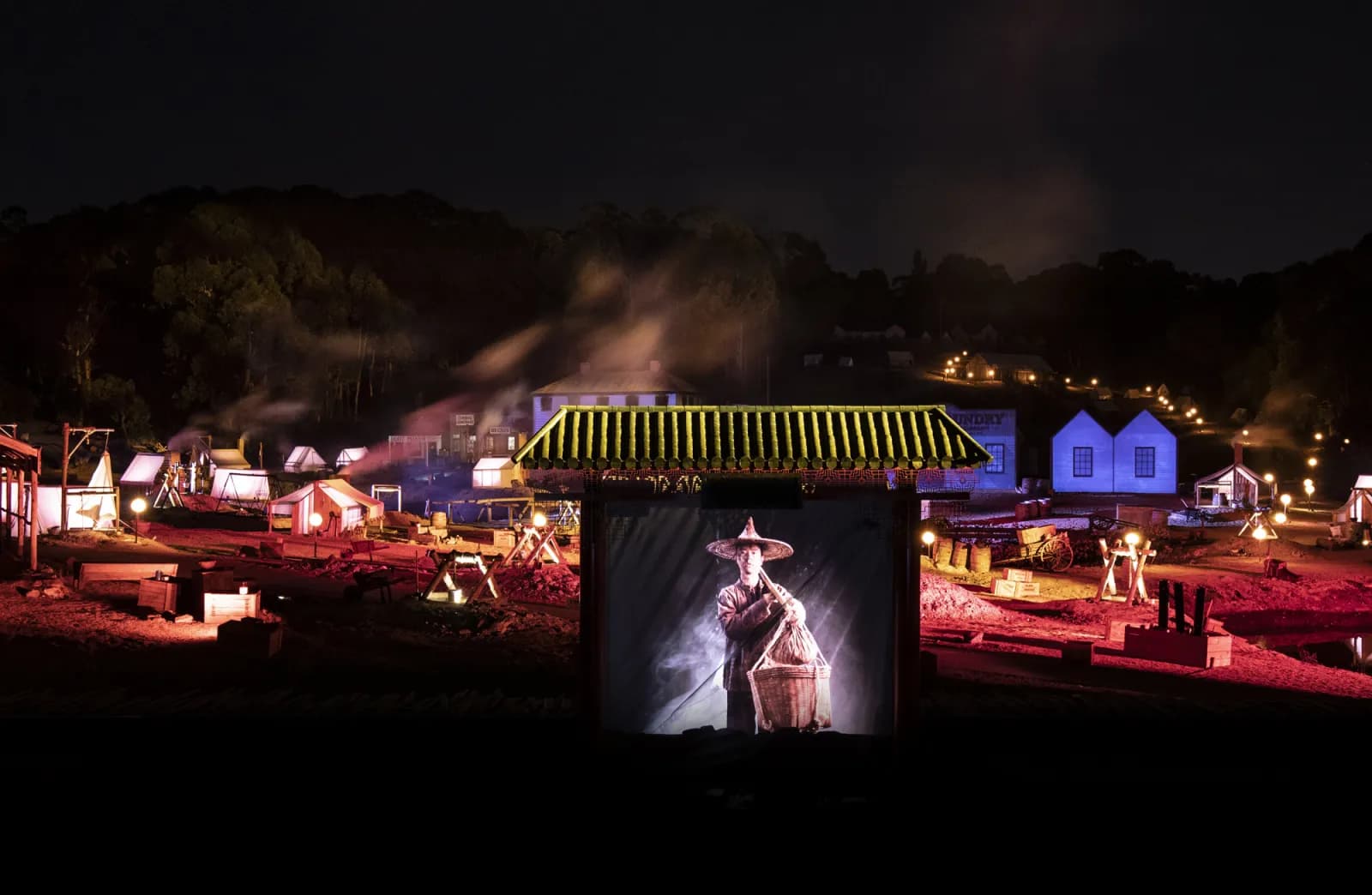 Show times
Show times are based on night fall and vary through out the year. Please make sure to arrive 15 minutes early.
| | | |
| --- | --- | --- |
| Month | First Show | Second Show* |
| January | 9.15pm | 10.15pm |
| February, March, April | 8.45pm | 9.45pm |
| April - October | 7pm | 8pm |
| Winter Wonderlights | 7.30pm | 8.30pm |
| October & November | 8.45pm | 9.45pm |
| December | 9.15pm | 10.15pm |
| Please arrive 15 minutes early. Due to the moving nature of the show, late admissions will miss part of the first section of the show, and will not be able to join the show later than 10 minutes after start time. |   | *Second show dependent on numbers & are only available as required. |
Frequently asked questions
How can I book tickets?
Tickets can be booked online. This is a seated capacity show.
What is the duration of the show?
Approximately 90 minutes.

Is the show weather dependant and what clothing is suitable?
The AURA Sound and Light show runs in all weather conditions. As some parts of the show are conducted in an open-air theatre, we recommend casual, warm clothing and good walking shoes. Occasionally the show needs to be cancelled due to extreme weather- we will always refund your ticket or reschedule your booking should this happen.
AURA is spread out around sovereign hill, how do I get around?
AURA is in several sections, beginning in our theatre. We have special touring buses that will move you to various locations. AURA ends in our open air theatre.
Is the show wheelchair friendly?
AURA is accessible for all mobilities. We have ramp access to all our theatres, and lower steps and a wheelchair lift on our vehicles.
Can I bring a pram/stroller?
Due to the set-up of our vehicles, unfortunately prams cannot be brought onto the show.

Does AURA include the Eureka rebellion?
AURA follows gold from its creation through to its discovery right up until the current day. The Eureka story is told as part of this but in a completely new way and within the context of a much larger story incorporating the history of the local Aboriginal people.

Is the show in multiple languages?
AURA is currently available in English.

Is dinner available before the show?
Dinner will not be available until further notice.

Are photographs or film permitted throughout the show?
Flash photography is strictly forbidden during the show.

Is the show suitable for children?
Parental discretion is required as the show employs loud sound effects and dramatic pyrotechnics. Strollers/prams are not permitted.

Can I use my discount offer?
All existing offers have been suspended until further notice.